Elevate Your Drive
If you're looking for a luxury crossover that's anything but ordinary, the 2023 INFINITI QX55 is here to redefine your expectations. This isn't just any crossover; it's the pioneer of the crossover coupe segment, designed for those who seek a uniquely provocative driving experience.
 Driven Design
The 2023 INFINITI QX55 seamlessly carries forward the legacy of the iconic INFINITI FX, blending an eye-catching crossover coupe silhouette with performance-inspired details. It's a vehicle that refuses to conform and proudly embraces its individuality.
The exterior design of the 2023 INFINITI QX55 is a work of art. With a front fascia that exudes confidence and a rear view that's both distinctive and appealing, this vehicle is bound to turn heads wherever it goes.
 Style That Runs Deep
Step inside the INFINITI QX55, and you'll find an asymmetrical cabin design that's built around style, comfort, and INFINITI's unwavering belief that luxury should be lived in. The interior of the QX55 is an invitation to a world of opulence, where every detail has been meticulously crafted for your enjoyment.
The seating in the 2023 INFINITI QX55 is nothing short of exquisite. With a range of options, including leather-appointed and semi-aniline leather-appointed seating, you'll find a perfect combination of luxury and comfort.
 Effortlessly Innovative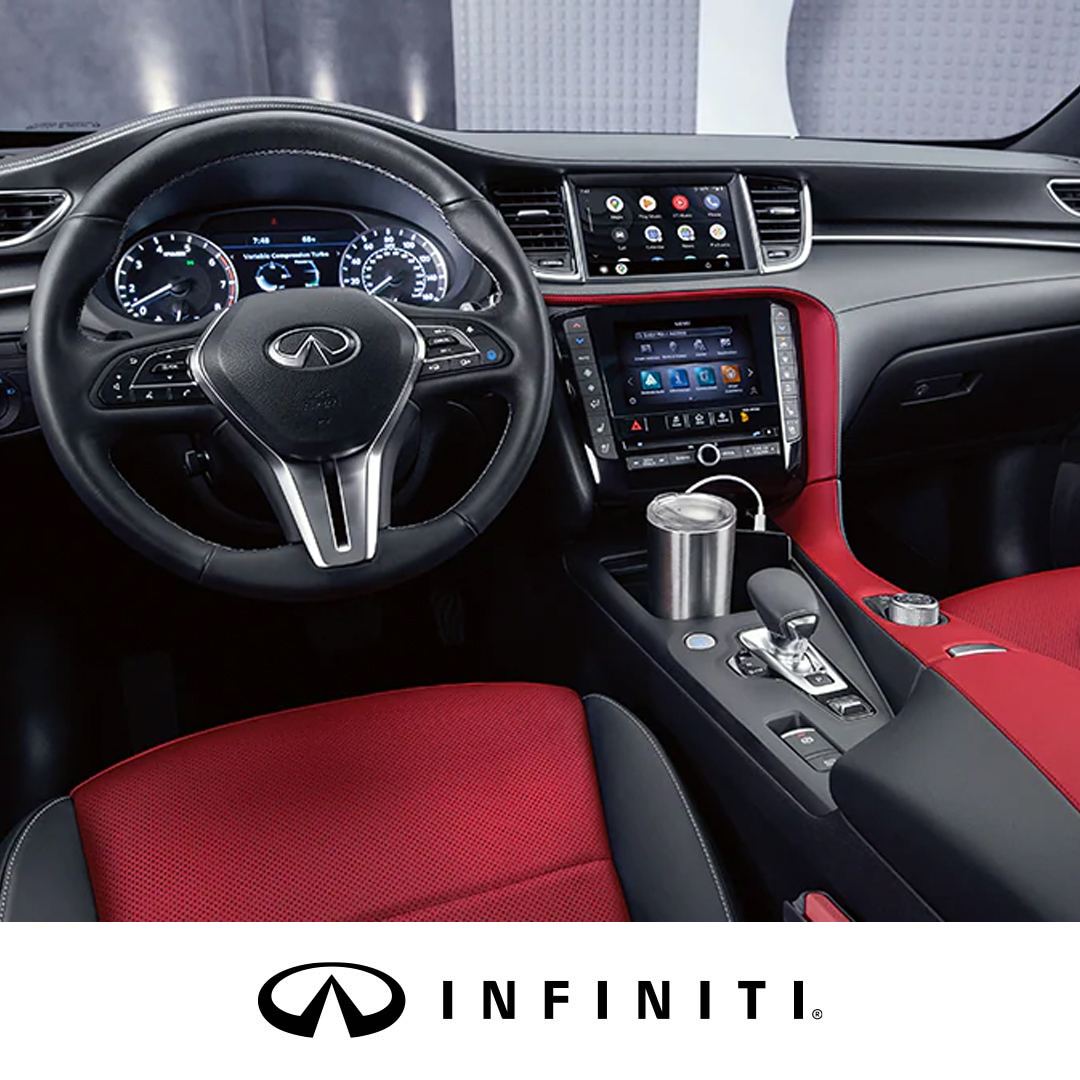 The 2023 INFINITI QX55 sets new standards for innovation in the luxury crossover segment. It understands the importance of staying connected to the road and the world around you. The INFINITI InTouch system keeps you connected effortlessly and intuitively, making every drive an experience in itself.
With features like a speedometer and a suite of driver-assist technologies, the QX55 feels like it can predict the future. While it can't truly see into the future, its forward-thinking technology ensures a safe and confident journey on the road.
 Performance Without Compromise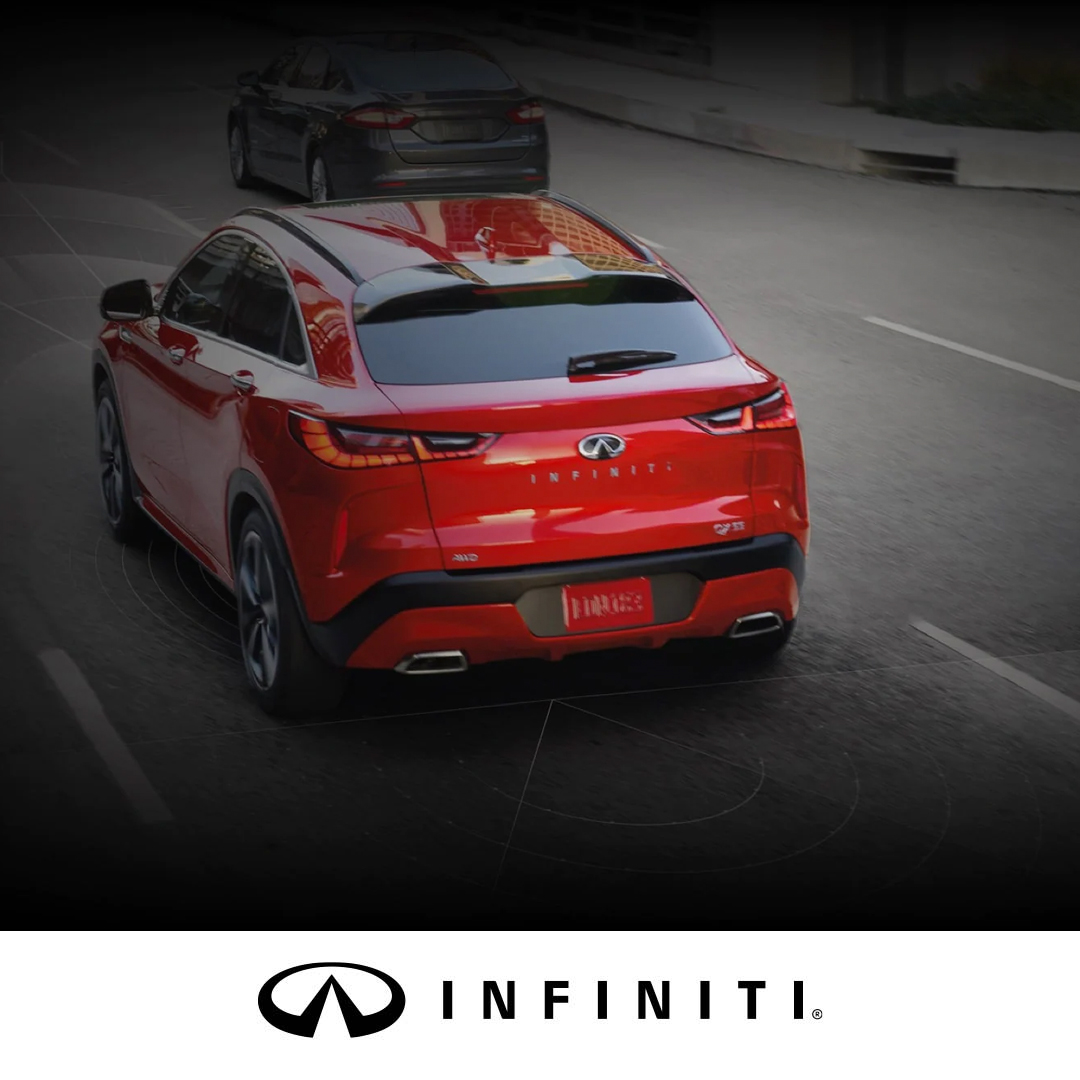 The 2023 INFINITI QX55 is not just about luxury and style; it's also a performance powerhouse. It offers the best of both worlds by combining power and efficiency in a way that's truly remarkable. With the revolutionary VC-Turbo engine, you'll experience a drive like no other.
The VC-Turbo engine refuses to conform to expectations, transforming to offer both performance and efficiency without compromise. With 268 horsepower and 280 lb-ft of torque, the QX55 is always ready to deliver a thrilling performance.
INFINITI's commitment to customer experience extends beyond the driver's seat with INFINITI Premium Care. This integrated routine vehicle maintenance plan is available for all 2023 and 2024 INFINITI vehicles, ensuring that your QX55 remains in optimal condition.
Auto Couture
The interior of the 2023 INFINITI QX55 is nothing short of automotive couture. It's driver-focused and design-forward, putting luxury performance first. From the detail-oriented finishes to the intuitive controls on the leather-wrapped steering wheel, every element of the cabin is designed with craftsmanship and modern life in mind.
 Trendsetting Style
Every aspect of the 2023 INFINITI QX55 is designed to set trends and inspire individual expression. The available Monaco Red interior is a testament to the vehicle's performance-inspired heritage and the bold sensibilities of its drivers.
 Luxury Should Be Lived In
At INFINITI, it's not just a tagline; it's a philosophy. The 2023 INFINITI QX55 uniquely speaks to the idea that luxury should be lived in, offering a singular cabin space that maintains all the benefits of a luxury crossover SUV while cutting an unforgettable coupe shape.
 Create an Atmosphere
The INFINITI InTouch infotainment system and steering wheel-mounted controls make it easy to create an atmosphere that keeps you connected to the world while on the road. And for the audiophiles, the available Bose 16-Speaker Performance Series Audio System ensures your music sounds as good as it should.
 Wireless Connectivity
The 2023 INFINITI QX55 makes it easy to stay connected with wireless Apple CarPlay. No more fussing with cables; it's all about convenience and ease.
 Comfort First
Comfort is paramount in the INFINITI QX55. With the available Advanced Climate Control System and standard heated front seats, you'll always feel at ease.
 Why Fit In When You Can Stand Out?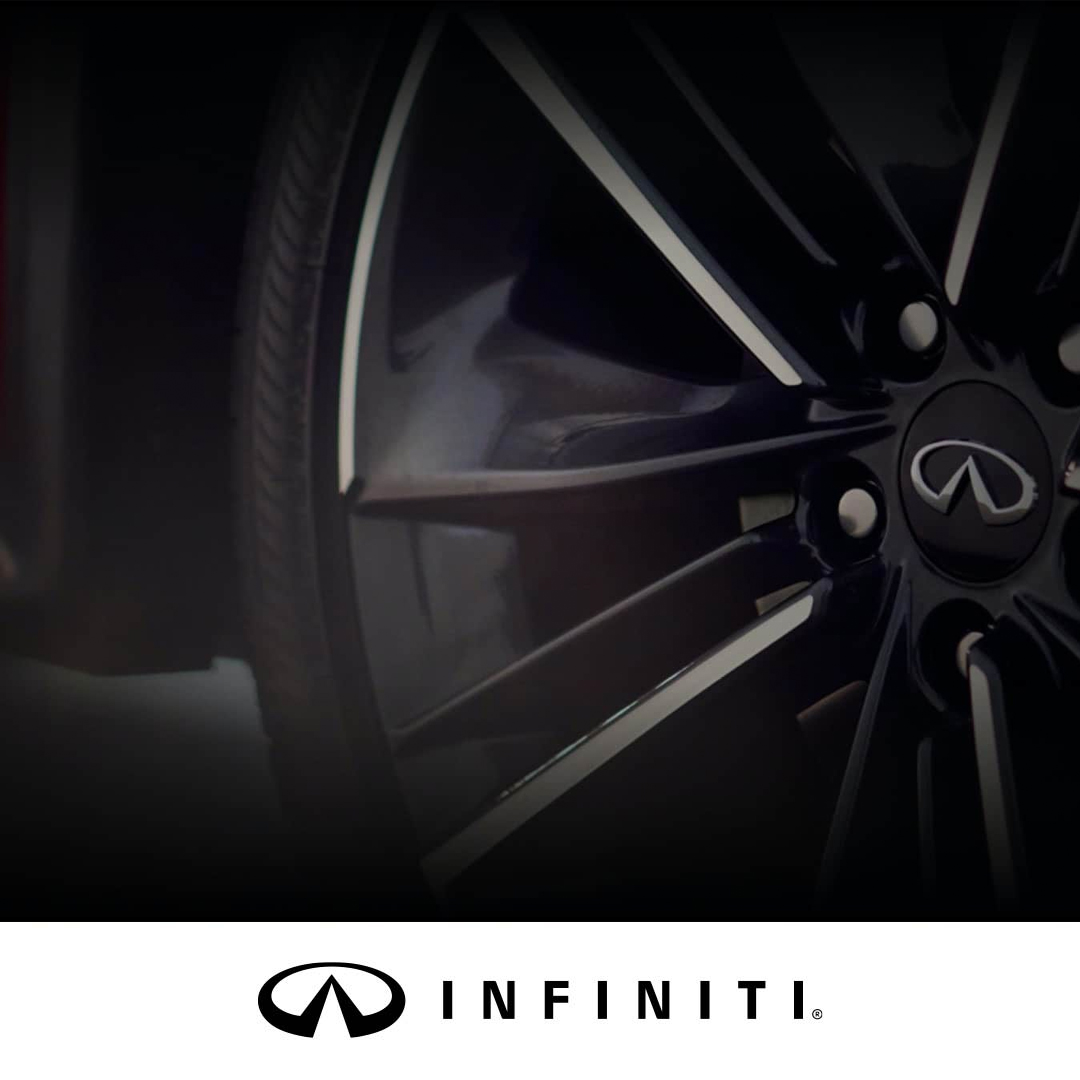 The 2023 INFINITI QX55 isn't designed to blend in; it's meant to stand out. Its dramatic crossover coupe stance, detail-oriented finishes, and performance-inspired rear ensure you'll be the center of attention wherever your journey takes you.
 Style Revolution
Whether you're fashionably late or just fashionably, the QX55's performance-inspired design makes sure all eyes are on you. The double-arch grille, unique to QX55, and the eye-catching digital piano key taillights leave a lasting impression.
 Innovation That Drives Conversation
The INFINITI QX55 is packed with innovative safety and driver-assist technologies, including ProPILOT Assist, designed to bring luxury to your everyday drive with the push of a button.
 Transformative Performance
The heart of a luxury crossover and the soul of a performance sports coupe converge in the INFINITI QX55. With its VC-Turbo engine, you can have it all—power, efficiency, and a look that's bound to turn heads.
 Innovation That's Connected to You
The MyINFINITI app lets you access your vehicle on the go, providing you with digital alerts and remote services. It's your direct link to personal security, convenience, and confidence.
 Putting the "Coupe" in Crossover Coupe
The revolutionary VC-Turbo engine of the QX55 sets new trends across the automotive industry by changing its compression ratio on the fly. This unique feature delivers both performance and efficiency. Additionally, the QX55 comes standard with Intelligent All-Wheel Drive, ensuring you have the traction and control you need.
When INFINITI designed the QX55, they did so with an eye towards trendsetting individuality, performance-inspired luxury, and a sense of cool that's hard to match.
 Working & Playing Remotely
The 2023 INFINITI QX55 is your ideal companion for work and play. With features like wireless Apple CarPlay, working on the go is a breeze. And when it's time to play, the ProPILOT Assist driver assist technology ensures you get to your destination in style.
 Style for the Scene
The 2023 INFINITI QX55 is more than just a vehicle; it's a style statement. With this crossover coupe, you can set your own trends and stand out wherever you go.
 Luxury for the Real World
The INFINITI QX55 is a perfect blend of style and substance, comfort, and convenience. It brings real-world luxury and confidence to every drive, thanks to its future-forward safety and driver-assist technologies.
To ensure the 2023 INFINITI QX55 matches your preferences, you can compare its various trims and features. Whether you opt for the LUXE AWD, ESSENTIAL AWD, or SENSORY AWD, you're guaranteed a driving experience that's second to none.
 Schedule Your Test Drive at INFINITI of Cincinnati
There's nothing quite like being behind the wheel of a 2023 INFINITI QX55. Experience it for yourself and redefine your luxury standards. Schedule your test drive today at INFINITI of Cincinnati and embark on a journey of opulence, style, and performance that's uniquely your own.